this year's greener gadgets conference touched on so many amazing and timely ideas about how human beings need to change the way they think about buying and discarding not only consumer electronics, but every object in our lives. the keynote address was given by inventor, technology renaissance man and stand up comedian (not really, but he should look into it!) dr. saul griffith who called himself and everyone in the audience a planetfucker! strong words, but no one was denying it.
dr. griffith presented way too many issues to contain in one post, so i'll be writing them up in digestible little mini-posts beginning with what i thought was dr. griffith's most powerful idea of all - his wish for us to throw away our notion that things can be discarded, because they really can't, and adopt a culture of "heirloom products" that we keep with us for our whole lives and pass onto future generations.
he announced to the delight of the audience that he would be a father in seven weeks, and hoped to give his son with two things, a rolex watch and a mont blanc pen.
while he apologized for mentioning the name brands considering the current state of our economy, the point he really wanted to get across was that hopefully, his son will keep and cherish those two items so much that he will not feel the need to buy more watches and more pens throughout his life (okay, he may need a few more pens). i wondered if and how the consumer electronics industry, which has profited immensely from perceived obsolescence and the desire for constant upgrades would swallow this pill. wasn't that like announcing at a dental convention that people would no longer get cavities? to my relief, no one threw produce, and many industry execs actually embraced the idea. how they could actually wrap their products around, and perhaps even profit from it still remains to be seen.
no matter how eco-conscious we say we are, it's awful tempting to just throw our lunches in saran wrap, foil or sandwich bags when we're on the run. and it's even more difficult to avoid paper wrappers, plastic bags and other waste when ordering lunch at subway, quizno's or your local deli.
image courtesy of iconocast
luckily, the folks at marca diferencia felt our pain, and created boc'n roll, a reusable, washable, wipeable mat that can be used to transport joey tribbiani's favorite food. yes, the boc'n roll is named for the bocadillo (that's spanish for sandwich) but it can just as easily be used to wrap up other snacks like cookies, crackers and burritos. try to steer clear of soup - it's not that advanced.
the boc'n roll en acción:

ralph rucci, who has been called "america's great coutourier"  is known for keeping things fresh and interesting.
in 2007, models in the show for mr. rucci's line chado ralph rucci donned heads fully wrapped in saran. the look was futuristic and fun then, but not necessarily something that i would rock on the street.
this year, i was tickled clear to see that mr. rucci decided to opt for plastic wrap dos once again, but in a much more practical and sleek way - as a headband!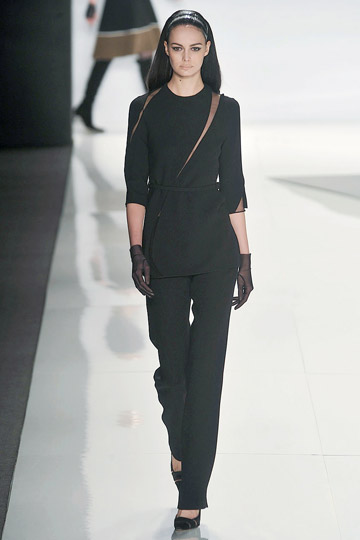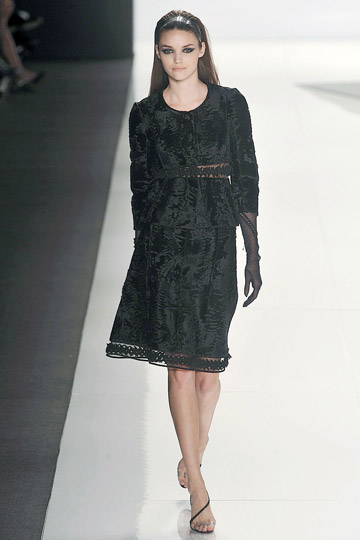 from the looks of the saran boxes backstage, i don't think these coifs were created with recycled sheets of wrap, but i'm totally going to try it next time i'm done preserving my bowls of soup.
ready to eliminate saran wrap altogether? use shower caps.
for all of you who have been inquiring about my $28 a week post, please cease with your pitying glances and offers to take me to lunch/donate leftover pita bread and hummus to me (unless it's edamame hummus – my fave!)
i am happy to report that i am now gainfully gainpartly employed at codegreen solutions, and not so happy to report that i have been going over my allotted budget for 3 weeks straight now.
although it is difficult to pinpoint what exactly has been putting me over the edge, this 14K gold melting love ring that i bought from yayoi forest may be a clue. (in urkel-esque voice) did i do that?
in fact, i am ashamed to say that i have been relapsing to my piggish ways quite a bit since finding a new job. is it possible that what happened to alternative energy as soon as gas prices came down is now plaguing me on a much smaller scale?
luckily, although there were a few splurges here and there, i was able to eat nothing but 99 cent cans of corn and soup for about 3 days. note to anyone who is seriously strapped for cash – 1 can of soup can go a loooong way. don't allow campbell's to tell you that you can only make two servings. i successfully squeezed 5 large bowls of soup out of one tiny can by just adding water and salt. just be prepared to divvy up the already meager 7 pieces of carrot that come in a can a bit further.
in any case, i am going to do my best to get back on track being a responsible piggy. that being said, i'm amending "$28 a week" to "$33 a week." wish me luck!
hurry and score this coat for free!
this week's freecycled goodie is a pink & tan nova plaid stadium coat with toggle buttons (size l).
if you think you can give it a good home, comment on this post with your favorite eco-tip or product.
the comment with the most votes by friday the 27th (your friends can vote by commenting with your name) will score this purty coat for free!!!
good luck!
do you have stuff to freecycle to the best ecotip? send an email to swyyne[at]swyyne.com to donate it to the most worthy tip!
other stuff for urban piggies

new yorkers - did you know that you can switch to wind energy?
a universal green charger cuts down on waste and annoyance
recraft your papers into cute hermes birkin valentines
lust: greenaid grenade-shaped eco-bag
laid off? recycle your business cards for waste free catharsis
want to blow your friends away with a trip that makes whalewatching in alaska and waterfall jumping in hawaii seem oh so passe?
check out the oil rig platform resort and spa by morris architects, a project that proposes repurposing abandoned oil rigs in the gulf of mexico into luxurious accommodations for tourists. such a resort would breathe new life into an otherwise stagnant and useless vessel, and the fact that it would be powered by all renewable energy sources makes this a clever solution with an ironic twist.
the oilrig resort is just one of many ecolocations popping up on the green scene.
read about all of the lavish amenities that the rig hotel plans to offer at inhabitat.
the toms wrap boot
- yet another goodie from summer rayne oakes' new book, style naturally (page 53).
"there are all these beautiful women in argentina who are married to the polo players, but they get neglected during the polo season. so you see all of these lovely ladies hanging out together in the bar. the idea for the wrap boot came from that. design a boot that looks like a bandage wrap on the polo-pony's leg, so they can get more attention from their polo-playing husbands. and i tell you," assures toms founder blake mycoskie, "the boot really looks sexy."
toms is known for their commitment to people in less fortunate countries, and gives one pair of shoes to a person who really needs one for each one that is sold.
check out this video that shows how toms is way more than just a shoe company:

what's a girl to do when she needs a snowboard bag and can only afford to spend $28 a week?
why, hack one, of course!
this army-colored oversized tote that the c.l.a.s.s. eco-materials showroom gave away to guests at their nyc launch party was the perfect size. you can use a similar bag or even sew two small duffel bags together.
first, i cut away the bottom of the bag to create two extra pieces that would form the sides of the snowboard bag.
cleo matches my board!
then, i just sewed the two extra pieces to either side of the remaining portion of the bag, et voila!
total cost: $0
total energy used: a little to power the sewing machine, but not nearly as much as it would take to make a brand new snowboard bag
other useful hacks:
check yourself before you wreck yourself: how to recycle those padded inserts that come with your bra
turn your plastic bag into a sewing machine cover
need a new laptop bag? make one out of a recycled t shirt!
laid off? recycle your business cards for waste free catharsis
make your old tank tops into reusable totebags/scarves
congratulations to the winner freecycle friday #2 - sunny!
here are sunny's fabulous eco-tips:
1. one can donate his or her old clothes, shoes, household items (i.e. bedding, kitchen supplies) etc. to the Salvation Army or a nearby Goodwill.
2. another option for trading not only books but also clothes is http://rehashclothes.com/
if you have some clothes that you believe might find a better home than via salvation army or goodwill, you can trade your dear item for another, newer, exciting item as well as post what you are looking for so that others can possibly provide a similar item which they were looking to get rid of anyway!
3. if you place a 'no junk mail' note on your mail box, you'll receive less junk mail! thus saving more paper.
4. it's easy to use the back of printed paper for notes and lists. make a pile for scrap paper and start today!
5. old appliances such as radios, toasters, modems, etc. can be taken apart and used for parts. one can sell them to a local repair/electrical shop instead of discarding them.
6. you can go to http://www.rbrc.org/consumer/ to check out where to find out where to drop off your rechargeable batteries from cell phones, cameras, laptops, etc.
7. if you have a puppy, or a doggy, let them play with plastic bottles and roll around with them! my puppy loves playing with empty soda bottles and generally crushes them for me so that when they are ready for disposal, more bottles can fit in the bin. aluminum cans can also be crushed before placing in the recycling bin/bag/box. Plastic, reusable bins are the preferred container of course.
8. you can donate various paper products, beans, beads, fabric scraps, ribbons, used paper clips, and trinkets, to kindergartens for craft-making
9. one can re-use [washed] meat trays from the super market as paint palettes!
10. old dried up flowers excrete great color when squeezed onto paper with warm water! one can use these old flowers for 'paint' before simply throwing them out.
11. i'm sure someone else has already said this, but if you use an aluminum water bottle it saves a lot of plastic waste every time your mouth is parched and you're not at home.
12. use plastic lead pencils (or pens) instead of the old #2 style pencils. save some trees.
13. try to use electric stoves, grills, or ovens and microwaves over gas stoves.
14. use dishcloths for cleaning instead of paper towels.
check out our lovely runner up nina's eco-tip here.
see more free stuff here.
true environmentalists know that holidays like halloween, christmas and valentine's day are enemies of the earth, creating tons of wasted paper, wrapping, packaging and all the energy it takes to produce all that stuff. but for true urban piggies, it's terribly difficult to resist the urge to give and receive presents! who doesn't like presents?!!
so this v-day, why not have your organic chocolate and eat it too? and if your special piggy hasn't joined the green movement yet, maybe you can sway her/him through the power of greendirtying.
red
roses
green
organic and locally grown flowers from green florists like adore floral. did you see the gorgeous arrangement they put together for us for summer rayne oakes' book launch party at the stella mccartney store? ask for flowers that are grown without harmful pesticides and are eco-friendly because they don't need to be shipped half way around the globe.
red
traditional designer handbags
green
make your own bags out of paper, fabric, or yarn that you already have
here's a free template from hermes to make a customized kelly bag for your sweetie. it's even more special if you make it out of something that holds special significance for the both of you - you should probably ask before you start cutting though…
or
if you're naturally crafty and have some extra yarn sitting around, why not whip up a counterfeit chanel or louis a la the counterfeit crochet project?
red
expensive dinner out at a fancy schmancy restaurant
green
affordable candlelit dinner in made with locally grown produce and, of course, love
the best place to buy fresh, colorful vegetables, fruits, cheese, wine and other ingredients for a homemade meal are our neighborhood greenmarkets, but if you're feeling lazy, freshdirect offers a lot of locally grown options for really great prices.
red
box of traditional chocolates
green
organic chocolates like vere (pronounced very) are sustainably grown, pesticide free and really, really good. plus, they use very little sugar so they're about as healthy as chocolates can be.
or
for an extra-special treat for your better half, why not whip up some homemade fortune cookies with ingredients (and paper) you probably already have at home? you can even mix the batter ahead of time and make the cookies with your valentine as a symbol of "creating your future fortune together." yeah, i know i'm lame.
dip 'em in chocolate to make them look extra purty:
red
lingerie made out of unsustainably produced materials
green
nowadays it's easy to find eco-conscious undies for decent prices. high end designers like stella mccartney have dreamed up gorgeous and soft sustainably sourced intimates lines, and if you want something even more special, check out clare bare's etsy shop, which calls themselves the "anti-victoria's secret" that sells frilly unmentionables repurposed from things like tablecloths.
most of these ideas happen to also be cheap too, so you can save some green while you go green.
peep some other fabulously green valentine's day gift ideas here:
check out more ideas for reducing your droppings here.
congratulations to swyyne's favorite eco-model and activist, summer rayne oakes, who debuted her new book, style, naturally: the savvy shopping guide to sustainable fashion and beauty
at a smashing soiree this tuesday at the stella mccartney store.
eco-luminaries, fashionistas and other notable guests like actor josh pais, julie gilhart of barneys, cnn business of green host olivia zaleski, socialite melissa berkelhammer, elisa lipsky-karasz (wwd), monique pean (ecco domani fashion fund accessories winner) and swyyne's favorite eco-designer bahar shahpar sipped on sparkling cocktails by veev and noshed on yummy vegetarian nibbles from acclaimed chef daniel boulud as they celebrated what some people are saying will be a styble for eco-conscious people who want to look good while doing good.
want to know what this momentous event means for the future of greendirtying? see the full article and more pics here.
see additional pics from eco-hustler here.
don't throw them away! if you want to save $7 (approx. cost of a pair of dr. scholl's inserts), these are a great alternative. total cost: $0

check yourself before you wreck yourself: save $16 by not buying the neutrogena wave
this week's freecycled goodie is a steel blue winter coat by luxe with military accents and furry hood (size s).
if you think you can give it a good home, comment on this post with your favorite eco-tip or product.
the comment with the most votes (your friends can vote by commenting with your name) will score this purty coat for free!!!
good luck!
do you have stuff to freecycle to the best ecotip? send an email to swyyne[at]swyyne.com to donate it to the most worthy tip!
congratulations to the winner of the very first freecycle friday ever - yoon choi!
here are [some of] yoon's eco-tips:
eco-tip #1: I use all the leftover veggies, meat, noodles, dumplings, and even kimchi to make a big soup at the end of the week. This can be served with rice, over rice and even mixed up with rice noodles.
eco-tip #2: I save plastic bags from the grocery store to collect cat litter.
eco-tip #3: Recycle paper. It's so easy. Just separate them from the other recyclables.
eco-tip #4: I wash and reuse wooden chopsticks, plastic containers from take out places and keep all unused tissue from restaurants in my car for the kids.
check out our lovely runner up linda's eco-tip here.
see more free stuff here.
after my post new yorkers: did you know you could switch to wind energy? a few people asked me about where the wind farms are located and how many there are. there are currently two main wind farms in ny, tess please correct me if i'm mistaken, one is fenner wind farm in madison county, ny and the other is the maple ridge wind farm in lowville, ny.
for anyone who is interested in how people that live in lowville feel about the farms, this video provides some perspective:
some of the main takeaways are:
the wind farms are more like real farms than most people think. individual farmers actually put them on their land (the guy in the video says he receives $6,600 a year for one).
people are proud of them and love the boost to their town economies.
the technicians that handle the turbines are called windsmiths (i never knew!).
the farmers call the turbines "cash cows" because they don't need to maintain, feed or do anything to them. they just get paid.
the wind farm keeps the town taxes low (in lowville, haha).
keep looking »